We've reached that small lull between the end of summer and the beginning of the holiday season. It's that sort of confusing time when you need a sweater in the morning but it's too hot for one by the afternoon. I'm not quite ready to give up watermelon and corn on the cob but I'm also very much in the mood for hot chocolate and pumpkin-flavored everything. I used to think this was rather a dull time of year but there is plenty out there to keep us busy in the interim. October has just begun and so far, it's been one big parade of
shiny new things
. For example:
::home::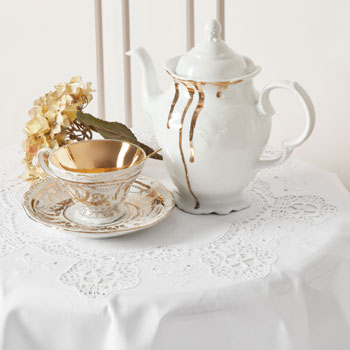 Dance and sing!
Zara Home
has finally come to the U.S., online! All those lovely linens and dinnerware that I looked longingly at on a trip to the Passy Plaza in Paris, I can now look longingly at from the comfort of my own home. I'm already obsessed with this tea pot. Someday I'll have a house.
Someday...
sated
magazine releases their second issue this month. I finally got around to ordering the first issue, which is dedicated to maybe the best thing in the whole entire world, dark chocolate. I can't wait to try the ridiculously decadent recipe for
Earl Grey Dark Chocolate Cupcakes
.
Swoon
.
J.K. Rowling's new book The Casual Vacancy is out now. IknowIknow it's not going to be like the Harry Potter series (not even one single house elf reference, quel dommage) but she's such a brilliant story teller, I'm eager to see what else she can do. Has anyone read it yet? Dare I ask...did you like it?
I love Target more than a person should love a store but I can't help it. Target is the peanut butter to my jelly. Specifically when I need to make a sandwich and I've run out. They have everything I need and want in my life. Ever since they've been doing limited edition designer collaborations, they've been even more my favorite thing ever. This month they will release details of their biggest collection yet: a collaboration with Neiman Marcus aaaaand TWENTY-FOUR amazing designers, including (but definitely not limited to) Diane von Furstenburg, Proenza Schouler, Rodarte, and Marc Jacobs. It launches December 1. It will be absolute madness. And I can't wait.
Ok, the iPhone 5 just came out (oh the feeding frenzy!) but that's not all Apple's got cooking lately. They have not officially confirmed it, but there's talk of an iPad Mini debuting just in time for the holidays. Personally I think it's ridiculous, since if you want a smaller iPad, why not buy an iPhone, or an iTouch? But then again, I never saw the point of the iPad in the first place so I'm not one to make that call. It just seems so unnecessary. What do you think about it?
The long-awaited Mumford and Sons sophomore album, Babel, was released last week.
Sigh.
Every time I listen to it, I want to grow a beard, put on a flannel shirt and march purposefully through an open field, banjo in hand, gustily singing about being a hopeless wanderer. "Don't hold a glass over the flame, don't let your heart grow cold, I will call you by name, I will share your road." I HEAR YOU, MARCUS MUMFORD. You just keep weaving that magical tapestry of song. We will nod and sway right along around the bonfire.
So...any new things tickling your fancy these days?
No seriously I'm asking a question.
And I took off the word-verification on my comment box so you actually have no excuse not to answer.